The Problem
So, a while ago I posted about anthropomorphism — specifically, how I planned to handle it in my graphic novel, Żużel and the Fox. 
But one thing that has persistently nagged at me is the mechanics of digitigrade legs. Many characters in the world of Żużel and the Fox will have to get around on their hind digits while walking upright.
A number of questions arise — for instance,
Should digitigrade characters maintain an upright, plantigrade-style posture?

Should they be drawn as if walking plantigrade — in effect, short-legged, long-footed humans?
What's the physics of how they would move?
The Solution (at least in one case)
I was having real trouble wrapping my head around basic things like walking. How would I draw that? What would the stride look like?
So, I figured I might as well try to animate it. Here is my result: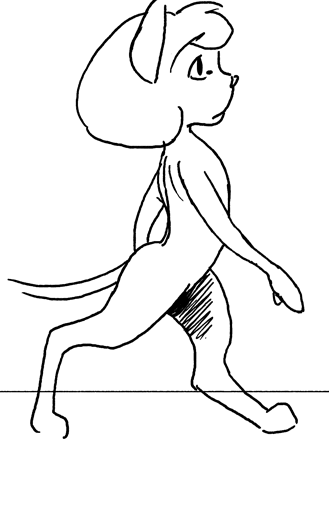 It seems like the solution for Żużel is to almost separate her thorax and abdomen, and place the thorax forward. To keep her center of gravity where it needs to be, she walks with an almost military posture — her head and shoulder thrown backwards.
What keeps this from looking awkward (in my opinion) is the excellent line of action it creates. From the crown of her head, down her spine, along her tail — it's all one sweeping curve:
And that curve seems to be the key. It keeps the character design cohesive, no matter what part of the stride she's in. It's almost like an optical illusion — tricking the eye into ignoring the fact that she's basically falling forward.
So, for me, using a brief animation was a way to break through a mental barrier. I'm now looking at the digitigrade problem in a new way. Hopefully it gave you something to think about too, if you are a cartoonist. Let me know in the comments!