Looks like Rudek has a soft spot for the old Badger, after all. Or maybe there's more going on here than it seems.
So, with this comic, after putting a lot of effort into adjusting the levels, saturation, contrast, and colors, I'm still not satisfied with the way it reads, tonally speaking.I tried planning out a coherent tonal scheme: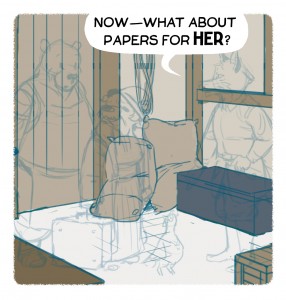 You can see five levels from dark to light, structuring the composition of the background. But I made an error in my process. I only planned out the tone structure of the background, so–the background reads quite well on first glance…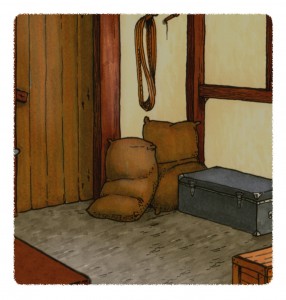 However, in texturing the floor, I threw myself a curve. The gradient goes from the mid-light tone to the mid-dark tone, flattening the mid-tone distinctions in the palette. Now, on the one hand, you could say that gives the backdrop cohesion, helps it represent receding, three-dimensional space. But, on the other hand, look what happens when we add the figures: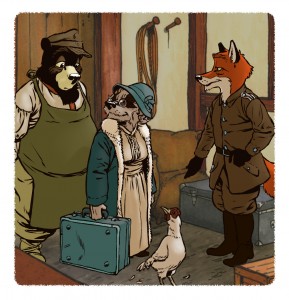 Many passages become illegible–or at least complex and unappealing to "read" with the eyes. Rudek's hand, for instance gets lost because it's right in the middle of a very active area where four tones are intersecting and overlapping. So, while I do think it makes sense to render the background layer and the figures separately, in the sketching phase I really do need to plan out tonal schemes for the whole image–not for separate layers.
While I'm unsatisfied with the results, I think analyzing my mistakes in this piece will go a long way towards improving the next one.