Yep. I did it. I did the eyeballs-in-the-dark gag. My life feels strangely complete somehow.
Also, I really like how the "in the dark" lighting of panels 1-2 came out. I created a mask, and lowered the saturation and luminosity a ton. But I really hit paydirt when I rotated the hue 180 degrees, and then lowered the opacity of the mask to 80%. The result is pretty accurate to how things look to me when the lights are out, anyway.
Here are swatches of Rudek's fur in panels 1-2 next to his normal fur color: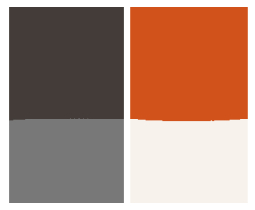 Depending on your computer monitor and your eyes, those swatches on the left might appear bluish. In fact I have two monitors on my computer, and on the left monitor, the swatches take on a definite bluish hue; on the right monitor, they just look brown. So the next great internet debate starts here: what color is Rudek in the dark?
Anyway, today also happens to be a very π-ish Pi Day. Only happens once a century!
Okay, okay. I'll stop avoiding the subject. Yes, Nina and Szpadel are bonking. So what? You all suspected as much.