I Apologize
Yep. It's a fart joke. I don't even remember how I came up with this idea.
New Word Bubble Process
I've been struggling to find a method for creating word bubbles that results in all of the following:
Ease of reading

Consistent and clean aesthetic
Somewhat organic
Easy to edit.
I was tinkering around in PhotoShop this week, and I think I'm on to something. The word bubbles in this cartoon, I think, have all the qualities I want. Almost. Pretty dang close.
But anyway, here's the process:
Make some text with the text tool.

Go into the Layer Styles menu, and check "stroke."
Adjust the stroke to be 50 pixels wide, make it white, and make sure the stroke is set to "outside."
Then save this as a preset called word bubbles!
When it comes to ease of editing, this method far outstrips any other I've tried. You can increase the "margin" of the word bubble by widening the stroke. You can change the line-breaks in the text, or totally reword it, and the bubble is automatically regenerated — no more futzing around with the vectors to reshape the bubble.
 Coloring Experiment
I also tried a different method for coloring, just on the first two panels. I didn't end up using it for this comic, but I may try it again in the future.
What I did was import the "inks" layer into Illustrator at 600 dpi, then run "live trace." This converted the raster linework to vector linework, so that I could print it on my laser printer without it getting all dithered.
Then, I colored the figures, trees, and border posts with Copic markers: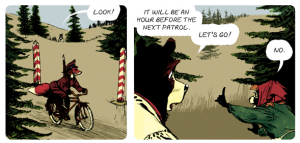 I do like the added texture. But I found it very difficult to control the color palette. And of course printer paper doesn't take Copics very well — the color was bleeding all over the place.