The Limitations of Google Image Search
For a while I've been doing what I imagine most people do, and what some professional comics artists even encourage. That is, I've been using Google Image search to find reference materials. And for a long while I felt there was nothing wrong with this. It was fast and efficient. Well, sometimes. There have been times when I spent 20 minutes trying different search strings before finding, say, the perfect angle of a woman in a headscarf from behind and slightly above.
As my example above should indicate, relying too much on whatever Google can offer me does, in fact, create a problem. My ability to stage poses, settings, and props gets limited. The quality of my art gets compromised.
I could try to imagine a Luger P08 from a different angle than the photo, but it's far easier to just change the layout of the drawing so that the menacing German whoever-it-is aims his gun in profile, to match the photo on Wikipedia. There's a kind of pressure to conform to what's available. This is compounded by the anxiety that I might be guessing wrong when I reconfigure the object mentally.
Inspiration: Norman Rockwell
What really convinced me to stop cutting corners, when possible, was reading about Norman Rockwell. I picked up a copy of Norman Rockwell, Illustrator at the local thrift store. The book contains excellent discussion and illustration of Rockwell's process. Apparently the buggy in this famous picture was one Rockwell bought and set up in his studio. He had costumes made for various projects, including his series of illustrations on Louisa May Alcott. Not only did he stock his own wardrobe and props for models to use in his studio, he employed a photographer on expeditions to various settings. Hundreds of photos were taken as a reference for a single illustration.
The quality of my own art, I realized, could improve if I took similar measures. I already take a lot of reference "selfies," particularly to get the folds of fabric around shoulders and elbows right.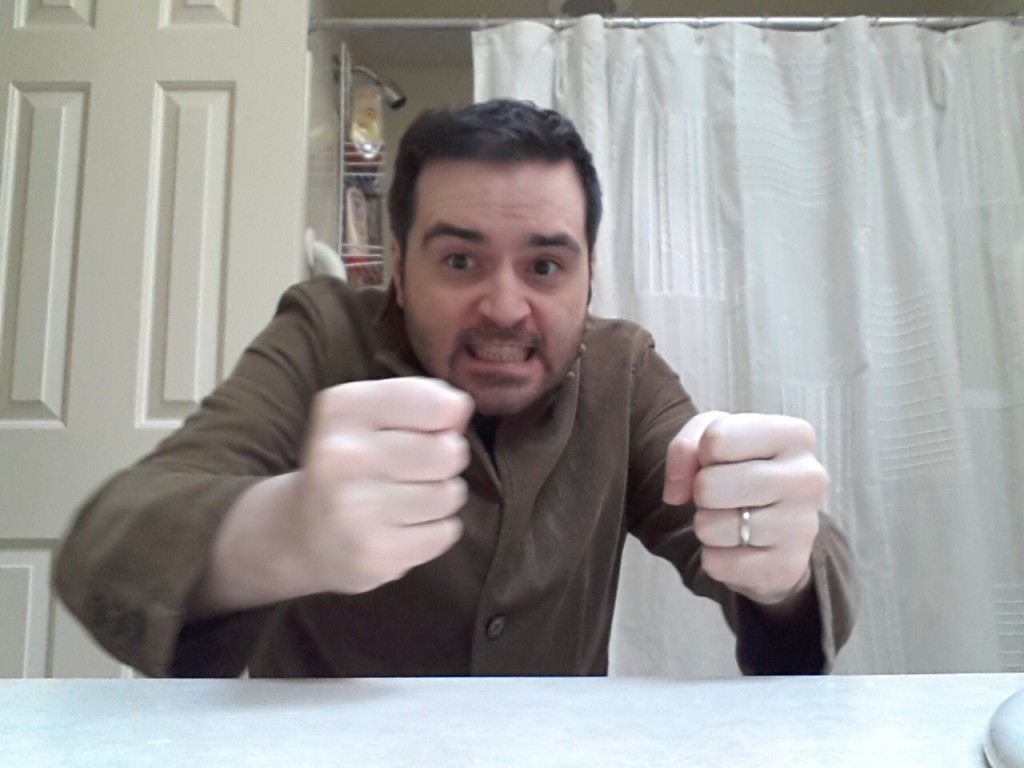 And for some reason I can't control my face
But as I expand the universe of Rudek and the Bear, and prepare to do the roughs for Żużel and the Fox, I've been feeling the need to improve the reference that I draw from. To put it another way, to really commit myself to reference material, the way Rockwell and other professionals have before me.

Beginning a Reference Materials Collection
Starting with this comic, Rudek's border patrol company will have an armored car to play with. So as usual I started by searching for images of the period-appropriate, second-hand armored car to be featured. One picture that kept coming up turned out to be the box to a model kit. So I said to myself, why not? and I ordered and built the model.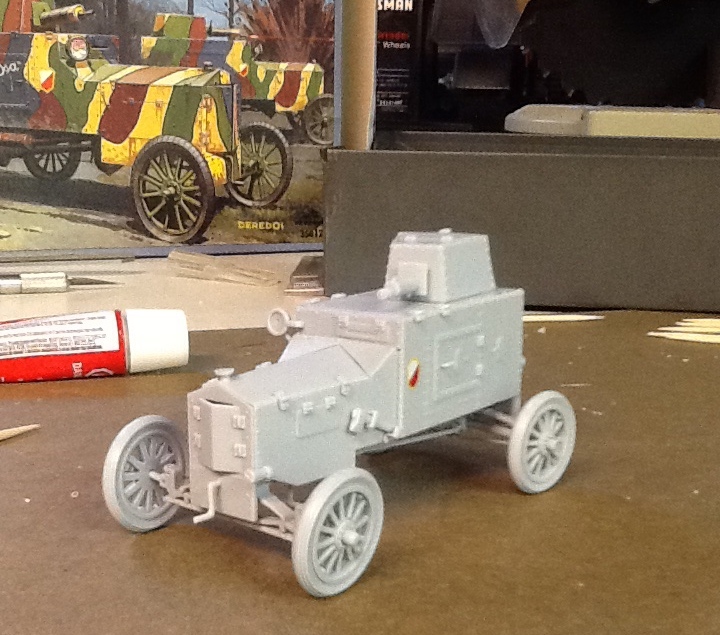 Soon, I plan on carefully going over the edges in black. This will allow me to transfer photographs of the model to 2D outlines. Then I can paste them into the comic and either draw over them, or color them in.
The look I hope this will help achieve is that of the vehicles in 101 Dalmatians, which were created using a similar process. The effects department made paper models of Cruella De Vil's car, the Badun's van, etc. and outlined the edges in black. They then shot footage that was transferred into the painted cels of the film. You can read about this and see pictures at Florian Satzinger's blog, here.
Anyway, I consider this model the first official item in my Reference Materials Collection. Maybe someday I'll have a whole barn full, like ol' Rockwell.