We all know someone like Lucky, don't we?
Okay — this was a pretty elaborate comic, graphically, but I had fun with all the challenges it produced. Not 100% satisfied that it reads easily, especially panel 2.
Composing with Notan
One thing that separates this comic from previous ones is the method I used to lay out the composition. I started with 3 value levels — dark, middle, light — and blocked in the panels roughly. This is more a method of thinking than a method of working, and the concept is called Notan. You can watch me work through the composition here, actually:
The Cards
Also, completely unnecessarily, I drew designs for a couple cards. I based them on a Polish deck. In a world inhabited by anthropomorphic animals, they would have cards with anthropomorphic animal courts, right?
I had to shrink them down so much that you can barely see them, but the point is they convey the right impression. And cards aren't something you can fake, or do half-way. In case you were curious about those cards Nina and Rudek are holding, here you go: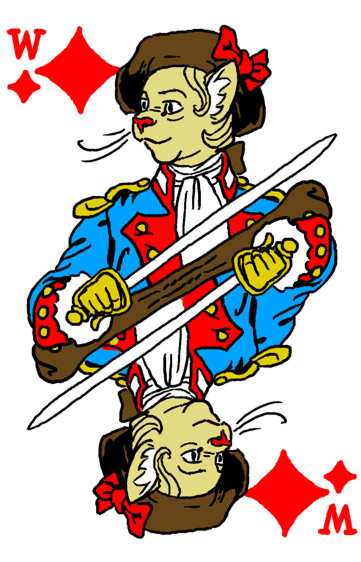 Her bonnet is supposed to be yellow. Oops.